Posted on Friday, October 15, 2021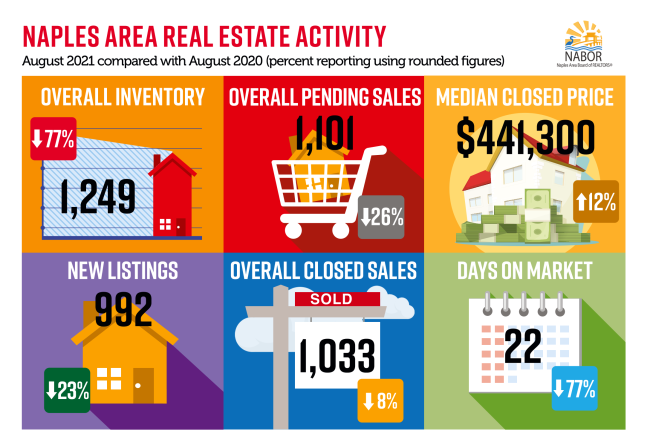 We felt we had to issue a rare mid month newsletter to touch on this unprecedented RED HOT market we are seeing right now.
In short, working with a highly skilled and experienced realtor is more important than ever:
If you are thinking about selling, right now is a terrific time and we would like to talk about our new multiple offer listing strategy that has been extremely successful for our sellers.
If you are thinking about buying, let's talk today about how to get all of your ducks in a row to beat out the fierce competition going after the same limited inventory.
See the infographic to get a quick sense of the market. It compares year over year in key areas. Keep in mind a year ago we were in the heart of the COVID pandemic and the market wasn't great. From there inventory has dropped 77%!
On top of the very low inventory, Florida is a hot market right now. Many are making the leap to a warm climate with favorable tax rates. Strong demand and low inventory means quickly rising prices.
To give an example, let's look at a neighborhood in Naples called Windstar where we are one of the top teams. At the moment there is nothing on the market. When something does come on it sells in hours, not days. Sellers need a pro-realtor to not grab the first offer, but generate multiple offers and sort through to the best one. Buyers need to be plugged in and ready to pull the trigger as soon as possible after a FaceTime or in-person showing. Windstar is just a microcosm of the Southwest Florida real estate market and many of the same strategies apply to the market as a whole.
Some other forces on our market worth discussing:
New construction backlogs of over a year
Insurance regulation changes leading to difficulty and higher prices
High inflation and low interest rates
Difficulty in procuring building materials, appliances, and furniture
Cash buyers winning almost every time against financed buyers
Challenges for first time and low income buyers
Naples continuing to grow, especially to the east
Short and long term rentals nearly impossible to find and rents going through the roof
Let's talk today to discuss all of your real estate needs and position you for success in this unusual market.
Best,
Naples Best Addresses
Nan Goebel – nangoebel@gmail.com – 239-595-3920
David Goebel – goebeld@gmail.com – 239-285-2038
Megan Goebel – nbaassistant@gmail.com – 630-777-6110
Mark Goebel – Mark.C.Goebel@gmail.com – 239-595-3921
P.S. Keep an eye out for our November newsletter for some exciting news!