Posted on Tuesday, September 25, 2018
You don't have to come to Fit & Fuel by bike, but you can!
This is a rendezvous location for cycling road warriors. It is a sight to see all the colorful cycling clothes as the riders hang up their bikes and stretch out their legs, it makes me realize how large the cycling community is here in Naples. I hear the camaraderie encouraged by sport, the German, the Spanish and other assorted languages reminds me that cycling is truly an international sport.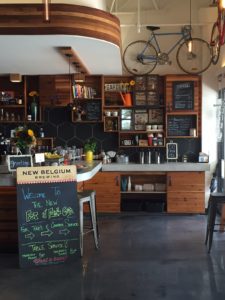 Fit & Fuel is located in Paragon Pavilion between Naples Cyclery and LA Fitness making it a perfect place to refuel (or repair your bike). Along with protein packed smoothies, this small sporty food establishment also boasts a wonderful selection of boutique beers. You don't have to exercise at all to enjoy this hip restaurant, the Paragon Movie Theatre is just a skip down the sidewalk.
Fit & Fuel
FitnFuelCafe.com
819 Vanderbilt Beach Rd. Naples, FL 34108
See you there!
Karen
Like this story? Join the thousands of others who read our free monthly newsletter. We write about the Naples real estate market and the wonderful Naples lifestyle.