Posted on Monday, March 03, 2014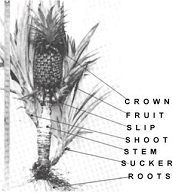 Last night good friends were over for dinner and as we sat on the back Lanai they made mention of our garden and wanted the "tour." My wife rolled her eyes because my tours can take a while as I get a little carried away with all things botanical these days. I kept the tour mercifully brief and my guests were patient enough to go along with my ramblings.
I guess I have taken for granted – again – all the fun of the garden and the unbelievable privilege it is to work outside in the dead of winter. I thought I would share some thoughts on tropical gardening here in Naples, Florida with you this morning.
Seven years ago when I left the world of global full-contact business consulting never would I have imagined tropical gardening would become one of my new interests. In fact, plants under my up north care frequently died, except maybe the lawn which was great looking but really did not count as a garden.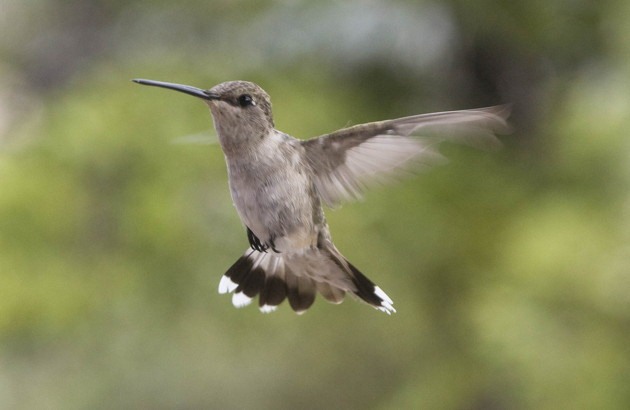 (Hummngbirds migrate through our garden twice a year)
So what happened when I settled in Naples, Florida? Well I discovered again the wonder of this tropical paradise for one thing. Even in the dead of winter it sparkles with never a freeze in my bay side micro climate. I love the outdoors and these tropical plants and trees intrigued me. They look weird to a Yankee. They produce fruit which is actually good for you (think anti-oxidants, omega-3 and vitamin sources way beyond the power of a blueberry). Some of it, much of it, is so easy to grow even I can do it.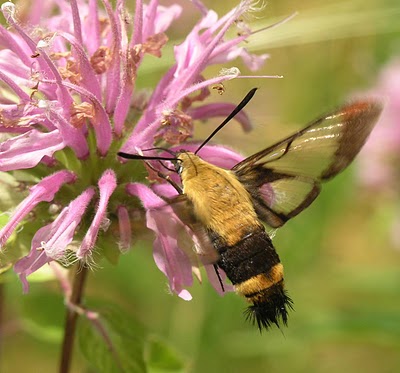 (this weird creature is actually a moth and helps pollination)
When my wife and I changed up our diets to follow a more healthy direction I added more edible healthy things into my new garden. We ratcheted up our healthy living another couple of notches when some of our close friends and relatives became sick – very sick. Everything we read spoke of diet, exercise and behavior and it seemed an all organic tropical garden and yard with no chemicals like herbicides and pesticides should become a real asset to healthy living. An organic food machine right in our back yard.
So where to start? Well I inherited a couple of trees from the past owner – a lemon tree (but the wrong kind for me) a grapefruit tree (which is supposed to help produce kidney stones so nix that) and an old orange tree – very sick but worth saving. I started out trying to save the orange tree and added a key lime tree because I thought the limes would go great with a Blue Moon beer (one of my friend's favorite brews) and the limes make great pies the visitors seem to love. Oops not a healthy living choice so I needed to keep thinking. I needed to make new and different choices.
By some miracle I saved the old orange tree and it just gave me another orange last night for desert. I added two different mango trees which seem to love it here and are easy to grow. I killed my first avocado tree because I did not know what I was doing but my new one – a Guatemalan with the best oil sources – is going along great and blessed with me with some remarkable healthy salads last fall.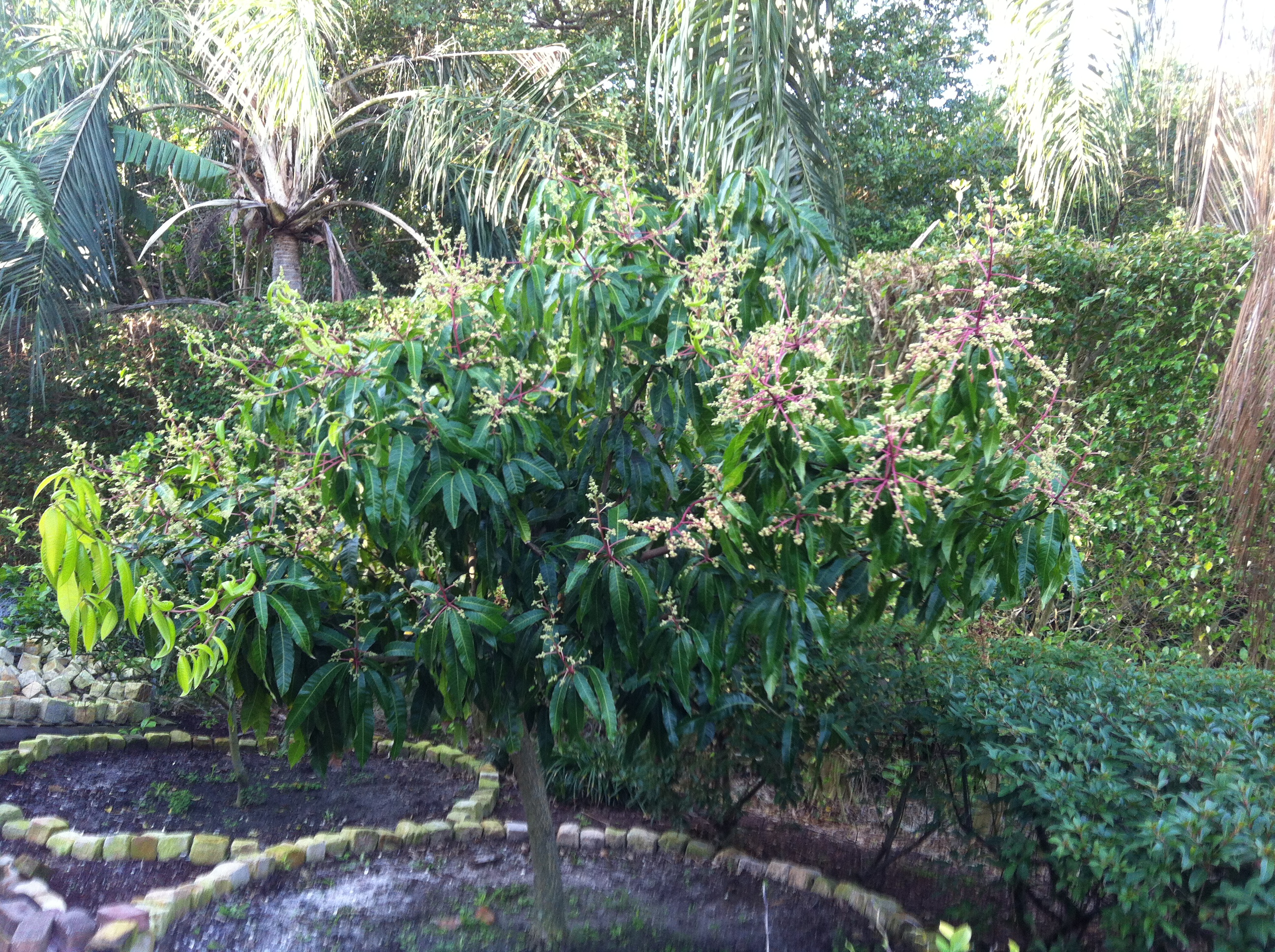 (my Springfield Mango making giant purple mangos for summer)
When my search went global for healthy fruits capable of thriving in my climate I added surinam cherries (watch it they can be invasive), strawberry guave, Natal plum, Brown Turkey fig, high-bush blueberries, two kinds of bananas for smoothies, tropical peach which struggles but boy is it worth it and four generations of pineapples. All of this growing in my back yard. All organic. All full of anti-oxidants, vitamins, and plants with ancient cultural medicinal claims. And there is a lot more you can do – I am just out of room in my yard.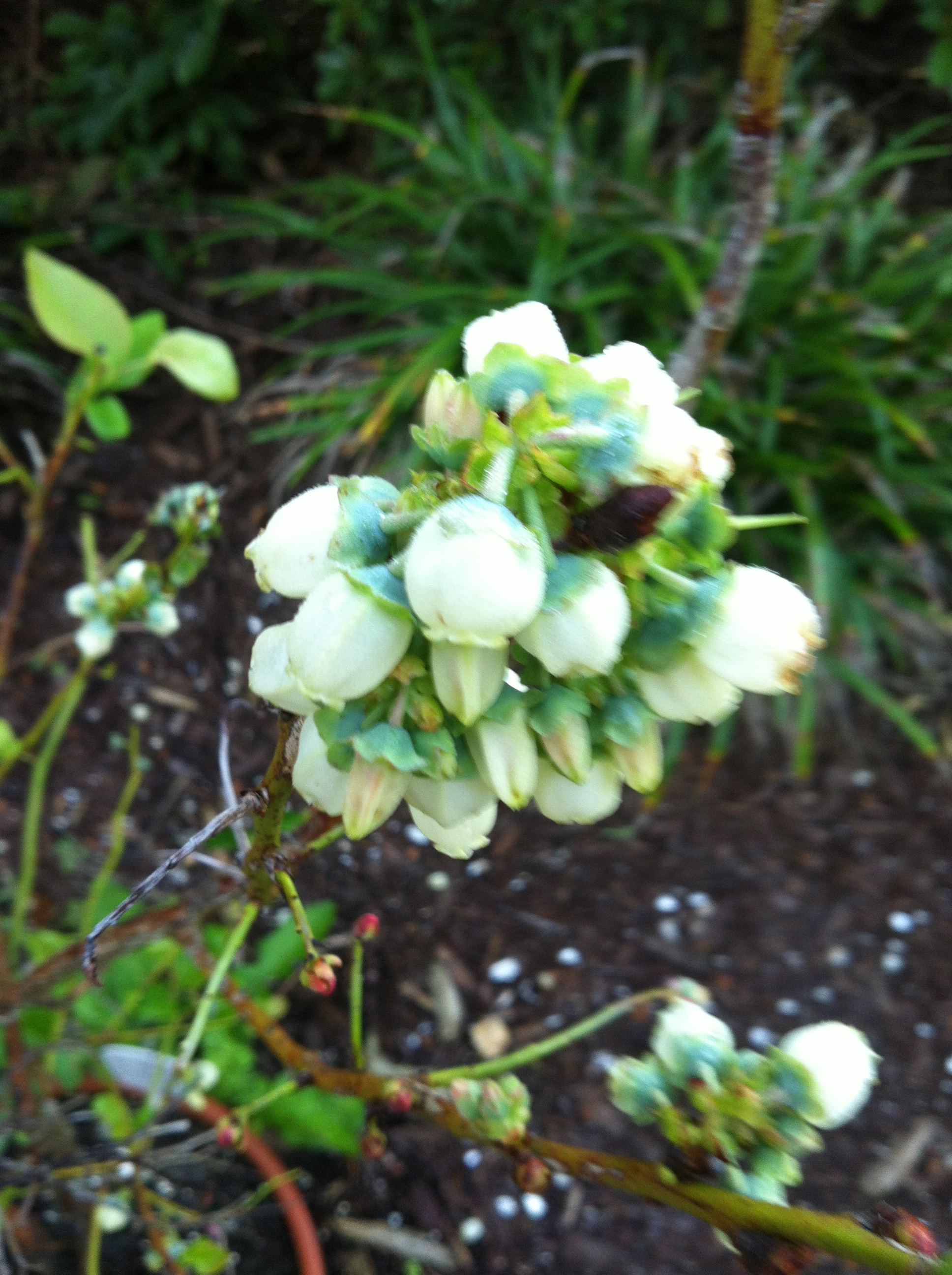 (my high bush blueberry making anti-oxidant fruit for me)
This became fun. Even me, with my train wreck of an up north gardening record could learn how to garden down here. And oh yes, I do not have acres and acres of land just a yard around my house. Sure it is a little cramped in back out of site so I don't jazz up the street appeal but oh how this stuff is growing.
I am now becoming a plant nerd. I joined the Rare Fruit Council. I was admitted to the Naples Botanical Garden Collections Committee (they are walking botanical encyclopedias and I have a long way to go) . I have a 500+ page word doc with my notes and observations – another obsessive sign so I must be careful! My friend last night at dinner, when hearing of all of this, just smiled and thought what has my friend got into now?
Try spending the first part of you day in a garden in the dead of winter and you will thank the Good Lord for the wonder of his creation. Pick a Meyer Lemon off your tree, cut in half, squeeze it into a glass of water and add a tablespoon of baking soda. Drink up for a great detox. In the evening this time of year go out and pick an orange and gobble it up for desert instead of God knows what. The Blood Oranges are good now and then move to Valencias latter in the spring. And oh yeah remember the Mangos are coming in June and July.
Tropical gardening and healthy gardening. Just another thing to explore in the wide riches of the Naples, Florida lifestyle. Check out some of our gardening images on Pinterest at http://www.pinterest.com/NaplesBAddress/tropical-gardening-in-naples-florida/ or go to the Naples Botanical Garden website at http://www.naplesgarden.org/ for some more ideas.
If you would you like to know more about Naples, Florida lifestyles, our festivals and some great things to do here just give us a call at 239.595.3921. If you want to rent or sell or buy here one day you might download a copy of our eBook Understanding Naples Real Estate https://www.naplesbestaddresses.com/offer/
Hope to meet and talk with you soon,
Mark Goebel PA & Nan Goebel PA
Co-Founders Naples Best Addresses Team
Coldwell Banker
Mark Goebel, PA and Nan Goebel, PA
REALTOR Coldwell Banker 5th Avenue South
Mobile: 239.595.3921 239.595.3920
NaplesBestAddresses.com
Facebook: NaplesBestAddresses
Youtube http://www.youtube.com/user/naplesbestaddresses?feature=results_main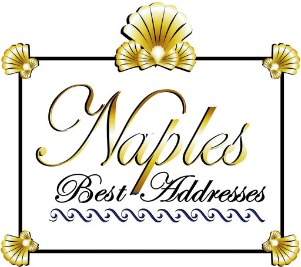 ————————————————————————
No legal, investment, or tax advice is being given in this Blog. Consult with legal, financial and tax professionals before acting on any real estate transaction. Actual real estate price and sales results are subject to market forces and are not completely predictable. The writings of this Blog are intended for the sole use of our clients.
We are pleased to announce a portion of our real estate earnings go to support the The Naples Botanical Garden, Habitat for Humanity Collier County, The Race For The Cure Citrus Ride, The Seacrest Country Day School and The Naples Winter Wine Festival.
Some of the data relating to Naples homes for sale and Naples real estate for sale on the NaplesBestAddresses.com website comes in part from the Broker reciprocity program of M.L.S. of Naples, Inc. The properties displayed here may not be all the properties available through the MLS reciprocity Program. This information is deemed reliable but is not guaranteed. Buyers and sellers are responsible for verifying all information about their purchase prior to closing.
Mark Goebel, PA is a REALTOR with Coldwell Banker on 5th avenue in Naples, Florida with 35+ years of visiting and living in Naples. After 25 years at Accenture, Mark retired as a managing director and spends his time helping non profits and building a Naples real estate team with his wife Nan. Talk to Mark and Nan about life in Naples and why they chose this place to live full-time over all others and enjoy Naples real estate.
Contact us to learn more about Naples real estate trends, the florida rental market, Naples design ideas like coastal contemporary and transitional designs or just get a feel for the place like Naples Florida population trends.