Posted on Monday, August 27, 2018
If there is one thing to take away from the Naples real estate market in July it is this; supplies remained tight, prices took a breather, and days on market lengthened a bit. Typical summer, although our team put five properties under contract in the last two weeks.
Here is a great summary of the first half of 2018: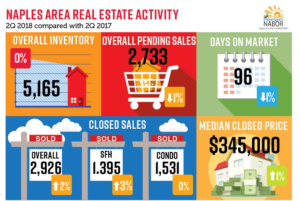 Now let's take a look at what we see this month!
Year over year home prices are now flat
Over 3.474 properties sold in the last 120 days – up from last year
Sales volumes are now stable after slowing in the off season
Days on market increased again to 71 days – a 40% increase over the summer month
Luxury continues to perform nicely and after last year's recovery.
Our reader's know all real estate is local, so let's look at some specific Naples areas. Remember as a "rule of thumb" inventories may be indicative of future prices – below 12 months prices rise, above 12 months prices drop or so the theory goes. Here are the inventory levels and the month over month trend.
Olde Naples 8.74+
Pelican Bay 4.00+
Windstar On Naples Bay 6.67+
Crayton Road 4.97-
Royal Harbor 5.78+
Port Royal and Aqualane Shores 10.31+
Marco Island 7.23+
So what? Well the so what is all these areas are showing very tight inventories with support for future price increases in the next few months.
Please give us a call if you are considering buying, selling or renting – or just to provide more facts. We would love to listen to you and help.
You may have noticed that our "How's the Market" post this month is shorter than it has been in the past. We are trying to deliver the facts in a shorter, sweeter version. Have feedback? Miss the old version? Let us know!
Like this story? Join the thousands of others who read our free monthly newsletter.