Posted on Monday, April 01, 2019
If there is one thing to take away from the Naples real estate market it is this; another strong tourist season sold homes but supplies climbed and prices pulled back slightly. Over the last few months we've seen some slowing – nothing major, sharp or significant, just a slow and slight pull back.

Let's take a look at the highlights:
Average Naples homes sales decreased slightly from $610,000 to $605,000 following a three month trend

8,305 properties sold in the last year in Naples – no real growth from 2018 to 2019


Pending sales also slowed down

Luxury property inventories remain elevated at 17 months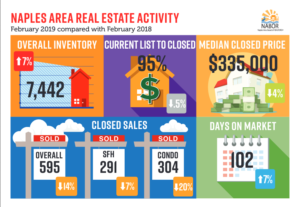 Let's take a look at individual areas around Naples. There are important variations in sales trends and it benefits our buyers and sellers to know specific trends. The numbers reflect current inventory or supply levels. A "+" or "-" reflects an increase or decrease in inventory over last month. Twelve months inventory is considered "equilibrium" with no short term price changes. Lower inventories should produce higher future prices, higher inventory prices could cause prices to fall in the short term.
Olde Naples 14.35+ expect lower short term prices
Pelican Bay 9.48 – expect support for price increases
Windstar On Naples Bay 9.09 – expect support for price increases Crayton Road 10.05 – expect support for price increases
Royal Harbor 18.26- expect downward price pressure
Port Royal and Aqualane Shores 15.26 – expect downward price pressure
Marco Island 12.57+ expect price stability
What is the point in all this inventory stuff? Inventories differ widely by neighborhood and so should prices in the short term. Buyers and Sellers should do their homework and price AND market and submit offers accordingly!
Please give us a call if you are considering buying, selling or renting – or just to provide more facts. We would love to listen to you and help.