Posted on Wednesday, October 15, 2014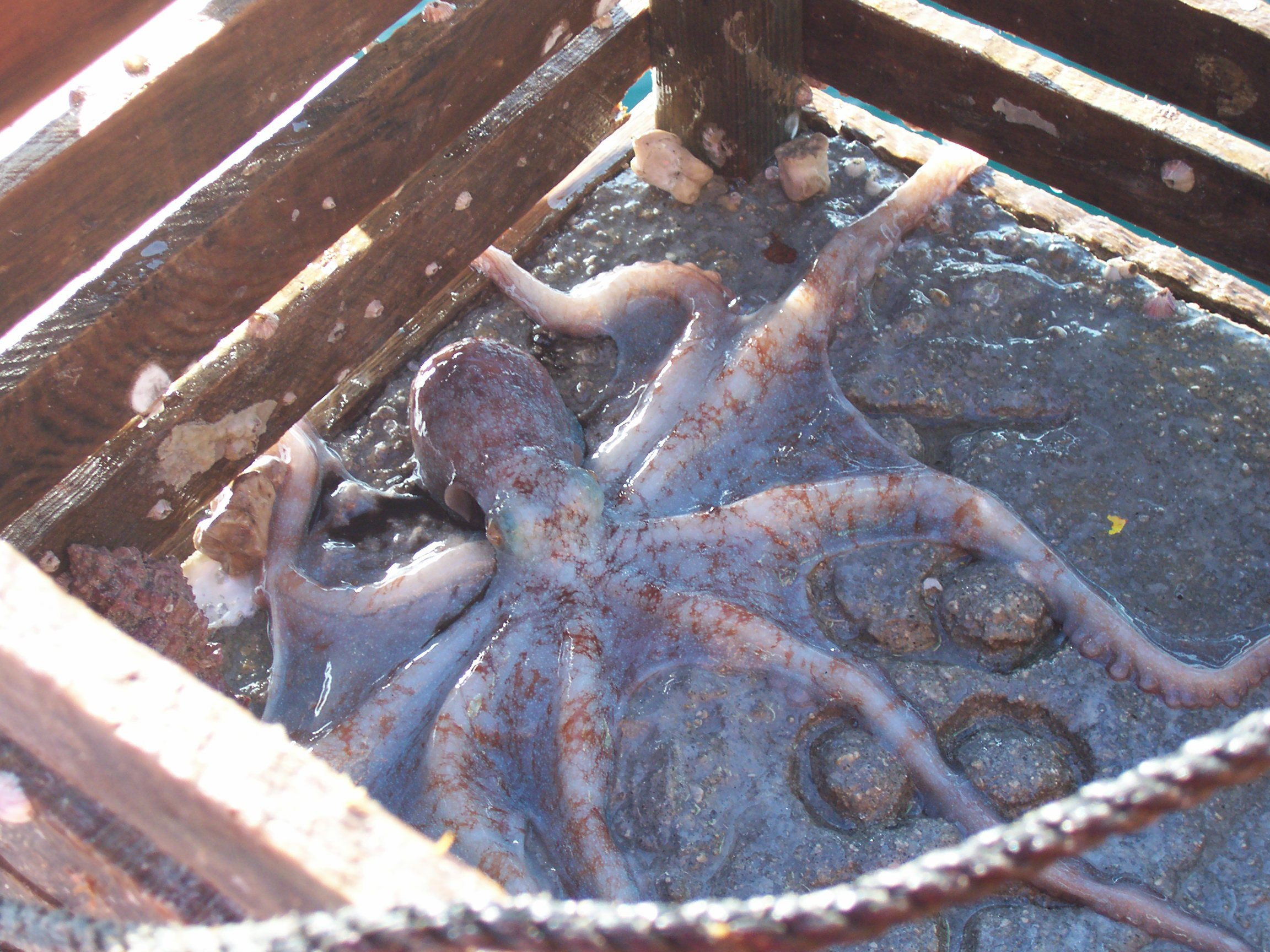 (no that is not a crab in my stone crab trap but an octopus – leave crabbing to the pros!)
Many of my Naples lifestyle posts are food oriented which might be a bad thing as I could certainly drop some LBS but wow you have to love these stone crabs. Fresh caught, easily cooked up and delicious. Yes they are wild and "free range" all protein so you can add the organic and gluten free label to them. Dig in.
Before we get these delicious critters to the table we need some really hard work on the Gulf. I have to take my hat off to the crabbers. Many a tourist, or year round resident, may notice crab traps piled high on the shore in the off season or perhaps they dodge the crab pot balls as they boat around on the Gulf. They may not be aware of the hard work it takes to get a crab claw from the bottom of the gulf to your table.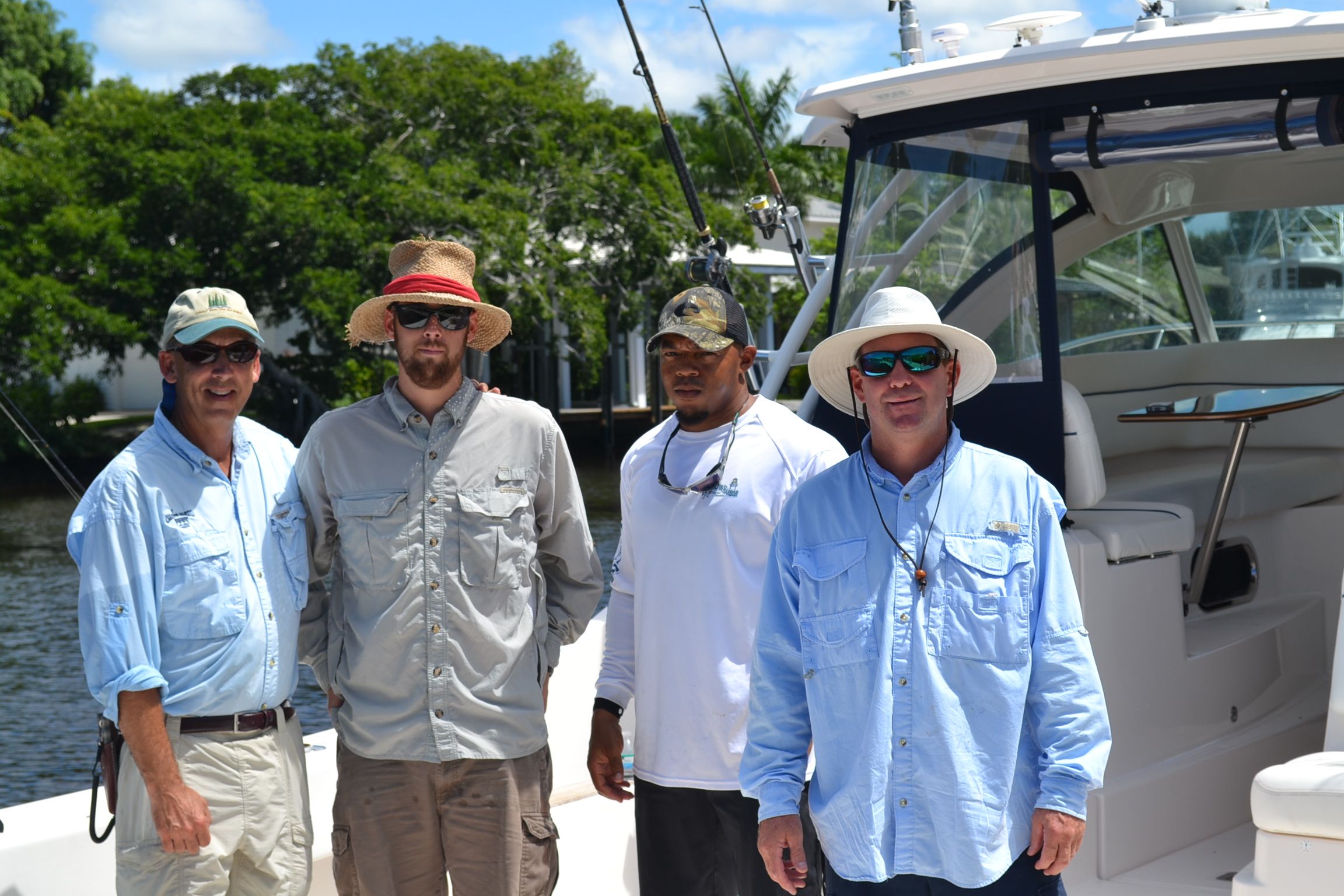 How much work? A crabber once told me the big operations may have a few thousand traps on the ocean floor and pull up hundreds a day to check, catch, take a claw, release, re-bait, and toss back in. Tough work. Sometimes in windy weather stirring up the waves and the ride (like this week) and long hours. Sure they make money but they have to get it done from October 15 to May 15.
The Naples News reported last year's season was slow for the crabbers statewide but the Collier numbers held up ok. I encourage you to read the complete article at http://www.naplesnews.com/news/local-news/tis-the-season-for-crabs-and-claws_90389693.
There are two ways to tell if we are having a good or bad crab season. The easiest way is to tell how the crab season is going is to watch the prices at the restaurant. A slow season combined with hungry tourists will drive the prices up. The second way to tell is to ask a local. Ask the crabbers themselves or the folks at the Farmers Market. My favorite source is Damus Kirk. He is a little harder to find these days but I know of a certain dock and at a certain time of day where I am likely to see him. So what? Damus is from a long line of Naples seafarers and remains in the business. He knows just about all there is about crabbing and the crabbing season. I will check in with him – maybe tomorrow – and see how the season the season got started.
It is my hope we start strong this morning for the sake of everyone involved. Crabbing is one of our great local businesses employing folks and producing a product everyone – local, seasonal and tourist alike – chow down.
Those are our thoughts about a great part of the Naples lifestyle. Keep these good folks in your thoughts this morning and they head out this morning in the rain to check their traps.
Tell us what you like to do here. and if you want to keep up with all the latest lifestyle and real estate news in Naples sign up with us at https://www.naplesbestaddresses.com/signup.php and we would be pleased to keep you in the loop.
Remember some of our readers are enjoying our eBook "Understanding Naples Real Estate" – go to – https://www.naplesbestaddresses.com/offer/ – for your copy.
We have toured and owned property in Naples for thirty eight years and know we can help you out. Please give us a call at 239.595.3921. Also consider reading our book "Understanding Naples Real Estate" to get you started on your real estate search https://www.naplesbestaddresses.com/offer/ or just give us a call about things to do here.
Hope to meet and talk with you soon,
Mark Goebel PA, Nan Goebel PA and David Goebel, PA
Co-Founders of the Naples Best
Addresses team
Coldwell Banker

REALTORS at Coldwell Banker 5th Avenue South
Mobile: 239.595.3920 (Nan) 239.595.3920 (Mark) 239.285.2038 (David)
NaplesBestAddresses.com
Facebook: NaplesBestAddresses
Youtube http://www.youtube.com/user/naplesbestaddresses?feature=results_main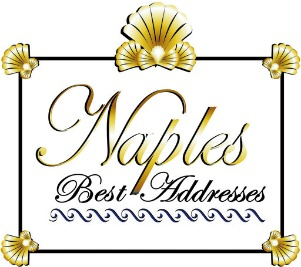 ————————————————————————
No legal, investment, or tax advice is being given in this Blog. Consult with legal, financial and tax professionals before acting on any real estate transaction. Actual real estate price and sales results are subject to market forces and are not completely predictable. The writings of this Blog are intended for the sole use of our clients.
We are pleased to announce a portion of our real estate earnings go to support the The Naples Botanical Garden, Habitat for Humanity Collier County, The Race For The Cure Citrus Ride, The Seacrest Country Day School and The Naples Winter Wine Festival.
Some of the data relating to Naples homes for sale and Naples real estate for sale on the NaplesBestAddresses.com website comes in part from the Broker reciprocity program of M.L.S. of Naples, Inc. The properties displayed here may not be all the properties available through the MLS reciprocity Program. This information is deemed reliable but is not guaranteed. Buyers and sellers are responsible for verifying all information about their purchase prior to closing.
Mark Goebel, PA is a REALTOR with Coldwell Banker on 5th avenue in Naples, Florida with 35+ years of visiting and living in Naples. After 25 years at Accenture, Mark retired as a managing director and spends his time helping non profits and building a Naples real estate team with his wife Nan. Talk to Mark and Nan about life in Naples and why they chose this place to live full-time over all others and enjoy Naples real estate.
Contact us to learn more about Naples real estate trends, the florida rental market, Naples design ideas like coastal contemporary and transitional designs or just get a feel for the place like Naples Florida population trends.