Posted on Saturday, December 22, 2018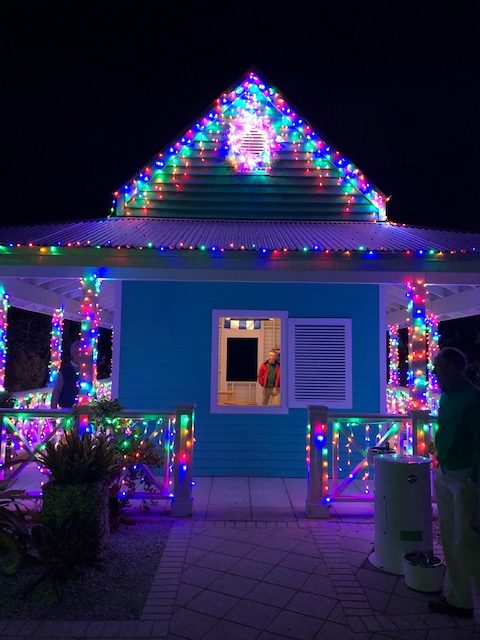 We've been having so much fun getting ready for Christmas this year. With Naples being named one of "America's Top Festive Towns", I thought I'd share some of our Naples Christmastime traditions – as a bonus, all of these are kid friendly!
Third Street South
Just after Thanksgiving, 3rd Street South holds their annual Christmas parade and Christmas tree lighting. It really is the first Christmas event in town each year and has everything from ice sculptures to ballet performances. It's fun to walk around, hear live music, eat food from select street vendors, and then enjoy the "snow" and see the major light the huge Christmas tree directly in front of Tony's Off Third. After this initial "kick-off", you can see the snow falling every Thursday night around 7pm during the Christmas season.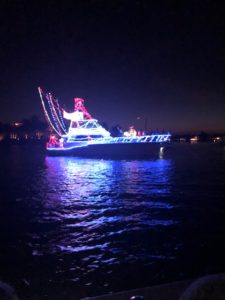 Boat Parade in Naples Bay
We take our boat out every year and anchor in Naples Bay to watch as other boats participate in the annual Naples Boat Parade. Blow up Santas, snowmen, and reindeer sit atop boats as they make their way north from Gordan pass heading up to Tin City. The boats are all sparkling and festive and it's fun to pick a favorite every year.
Lights in the Garden at the Naples Botanical Garden
The Naples Botanical Garden is already stunning but seeing it just after sunset beaming with beautiful Christmas lights takes it to a whole other level. We enjoy walking the garden, having a glass of wine, listening to live Christmas music and enjoying the lights. Get your tickets early because they do sell out! This year, we were able to go to the newly opened Celebration food truck park beforehand for dinner.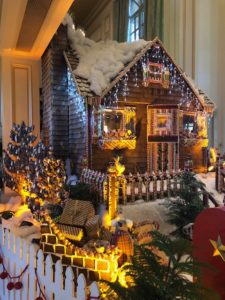 Life-size Gingerbread House at the beach Ritz
The gigantic gingerbread house sits just inside the main doors at the Ritz. You can actually smell the ginger radiating from the hundreds of ginger bricks used to build the structure. Add on thousands of pieces of candy, sugar upon sugar, and icing to hold it all together and you have a world class gingerbread house. It's a must-see.
Naples is a wonderful town to spend Christmastime and that's not even considering the warm weather! Please let us know if you have any questions or fun Naples traditions of your own.
Thinking about coming to Naples and need a place to stay? Contact us for your rentals or residential real estate needs.
Like this post? Join the thousands of others who read our free monthly newsletter. We write about the Naples real estate market and the wonderful Naples lifestyle.