Posted on Friday, February 17, 2012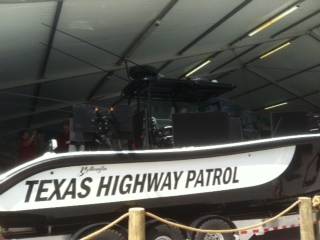 A big part of the Naples real estate experience is life on the water. This week we went to a friend's cocktail party on his new Hunt 52 – a beautiful boat destined for cruising local waters and the Bahamas this spring. Later that same evening over a hotly contested game of bridge our guests who live on the beach talked about all things boating. So Thursday morning we jumped in the car and headed over to one of the largest in water boat shows in the country – the Miami Boat Show (http://www.miamiboatshow.com/). Wow, what a show.
After a short two hour drive from Naples and braving Miami Beach traffic (no worse than Chicago, NY or Boston) and heading out the causeway to the convention center we found our way to the show. You have to love the street names like Jackie Gleason Drive or Arthur Godfrey Boulevard – ah the days of old in Miami Beach.
The economy must be improving – the convention center was packed. Packed with boats, packed with people, packed with all new found boating gadgets and widgets like Sky Hook which keeps your boat stationary without an anchor using your GPS as a guide, or this sweet Texas Highway Boat which seems to be ready for more than fishing with its 50 cals mounted in the gunnels.
After the convention center we headed to the in-water part of the show. You can chose "all sail" if sailing is your thing but we are stink boaters so we headed off to the power boat show where you have the opportunity to create massive carbon footprints. Some great boats here with dreams of cruising the ocean blue. Cruising/Fishing is our thing so we hung out with the Galatti Folks and looked over many express and a few sport fish models.
The food on site is so-so but sneak over to one of the fine South Beach hotels and treat yourself to better fare and some interesting people watching opportunities in season. My wife and I enjoyed a nice lunch and then headed back to the show.
Another couple of hours of the in-water show and a return to the Convention Center and we headed home.
Oh the Naples Florida lifestyle I love it. A short trip across state for some Miami Beach flare and boat shopping and back home to paradise.
Have a great day.
————————————————————————————————–
No legal, investment, or tax advice is being given in this Blog. Consult with legal, financial and tax professionals before acting on any real estate transaction. Actual real estate price and sales results are subject to market forces and are not completely predictable. The writings of this Blog are intended for the sole use of our clients.
Mark Goebel, PA is a REALTOR with Coldwell Banker on 5th avenue in Naples, Florida with 35+ years of visiting and living in Naples. After 25 years at Accenture, Mark retired as a managing director and spends his time helping non profits and building a Naples real estate team with his wife Nan. Talk to Mark and Nan about life in Naples and why they chose this place to live full-time over all others and enjoy Naples real estate.
Mark Goebel, PA
REALTOR Coldwell Banker 5th Avenue South
Mobile: 239.595.3921
Email: mark.c.goebel@gmail.com
NaplesBestAddresses.com
Facebook: NaplesBestAddresses
Twitter @mcgoebel
Naples Best Addresseses – Where The Best Address in Naples Real Estate Is Yours