Posted on Friday, August 02, 2013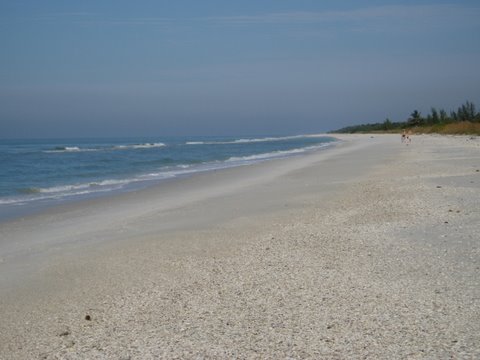 Ah the quiet, leisurely life of a Naples Summer – hey wait a minute there is a lot going on. Traffic is up, merchants report strong sales and the international set still heads here for summer holiday.
There was an article this week in the Naples News about how Naples is becoming more of a year round community and less of a seasonal destination. The manager of Trulucks was quoted as saying he is calling extra staff in and not sending them home as in past summers. He stated "The weather, low taxes and the amenities are hard to beat any where" – well you all know this but more and more people are starting to figure it out.
Efforts to bring more businesses to Florida impacts Naples favorably. Hertz announced it is moving to Naples bringing 1,600 people, including many employees with families. As a result the single family home market is heating up.
We were at Mercato last weekend. Many of the restaurants were full and lots of people were walking around (by the way we recommend the new wine bar near AZN A nice wine selection, a charcuterie tray and you are off and running.). Merchants are finding more to like in a Naples's summer these days.
We are having our strongest real estate summer to date – especially with more year round residents looking for single family homes and former prospects starting to buy.
Market trends
Steady volumes against a shrinking inventory of properties is driving some significant price appreciation. What a difference a couple of years makes. We are not yet to the "boom-boom" days 2003-4 but things have greatly improved.
Pending sales, closed sales, and median closed prices all continue to increase. We are also seeing higher priced property segments starting to feel the recovery following through from the earlier recovery in more modestly priced properties.
We think it is likely many large scale residential projects will arrive too late to meet current residential real estate demand – especially in the 2013-2014 season. Continued price increases and inventory shortages are likely if volumes remain steady. Keep your eye on pending sales as a good indicator of volume stability.
Our realtor association shares our view. According to data collected and reported by the Naples Area Board of Realtors (NABOR) both second quarter and year over year business volumes showed improvements. During the second quarter of 2013, the Naples area experienced a thirteen percent increase in overall median closed home prices, rising from $220,000 2Q 2012 to $249,000 in Q2 2013.
According to our Managing Broker at Coldwell Banker "Normally there are more homes available for sale than there are closed sales each month, but right now the available properties are being gobbled up as fast as new listings are being added to the market. SunshineMLS statistics demonstrate that for every closed home sale, one new listing becomes available. This ratio underlines the low inventory and is producing a sense of urgency in buyers, as options are becoming scarce."
NABOR also reported growth in the higher end of the market with "June's pending condo sales were very strong in the over $1M market. Pending condo sales in the $1M-$2M segment increased 53 percent, and 36 percent in the $2M+ segment for the 12-months ending June 2013 compared to pending sales during the 12-months ending June 2012."
Ok, you get it. Naples real estate is back and if trends continue the 2013-2014 tourist season is going to be very interesting for local real estate.
That wonderful Naples lifestyle
The funny thing about the real estate recovery is life is pretty darn good here even without the real estate market improvements. We have reported in the past on the active Naples lifestyle, how there is no shortage of outdoor activities, local 50+ year old national class competitors, and year round sport availability. Mark is cycling again, chasing tennis balls, and hauling in some big fish. Nan is working out every morning and finds time to run, cycle and hit the gym.
But what about nutrition down here? Now we have another reason to brag, organic farming (We know the California study said organic is no better tasting or nutritious than non-organic – these were the headlines. But … the study also showed a 35%+ reduction in harmful chemicals with organic foods – this did not make the headlines, hmmm, keep reading).
Collier Family Farms (yep the same family) is now a certified organic farm and they plan to keep adding acres of crops as well as organic beef. This trend to organic reflects the growing requests for organic produce by consumers, and a way for smaller farmers to stay in business, as they can charge more for their produce. Add their efforts to Calusa farms, and merchants like Citrus, Food and Thought and Whole Foods and you get the picture. SW Florida now has over 2500 acres of organic farms, up from 50 acres 15 years ago.
Oh yeah, we bought a juicer finally to start grinding all this stuff up for own consumption!
Wrapping Up
Anyway, we hope all of you are well. You get the picture down here – real estate is on the "up take", the 2013-2014 season is setting up nicely and oh how we love the lifestyle.
Give us a call or email just to catch up and we would be pleased to help you with any of your real estate matters.
Please contact us for more thoughts regarding Naples real estate and lifestyles. To stay informed please register for our monthly newsletter at NaplesBestAddresses.com, follow along with us on twitter (@mcgoebel), and see us on linked in (Mark Goebel) and Facebook (Naples Best Addresses).
————————————————————————
No legal, investment, or tax advice is being given in this Blog. Consult with legal, financial and tax professionals before acting on any real estate transaction. Actual real estate price and sales results are subject to market forces and are not completely predictable. The writings of this Blog are intended for the sole use of our clients.
Some of the data relating to Naples homes for sale and Naples real estate for sale on the NaplesBestAddresses.com website comes in part from the Broker reciprocity program of M.L.S. of Naples, Inc. The properties displayed here may not be all the properties available through the MLS reciprocity Program. This information is deemed reliable but is not guaranteed. Buyers and sellers are responsible for verifying all information about their purchase prior to closing.
Mark Goebel, PA is a REALTOR with Coldwell Banker on 5th avenue in Naples, Florida with 35+ years of visiting and living in Naples. After 25 years at Accenture, Mark retired as a managing director and spends his time helping non profits and building a Naples real estate team with his wife Nan. Talk to Mark and Nan about life in Naples and why they chose this place to live full-time over all others and enjoy Naples real estate.
Coldwell Banker
Mark Goebel, PA
REALTOR Coldwell Banker 5th Avenue South
Mobile: 239.595.3921
NaplesBestAddresses.com
Facebook: NaplesBestAddresses
Youtube http://www.youtube.com/user/naplesbestaddresses?feature=results_main