Posted on Saturday, November 20, 2010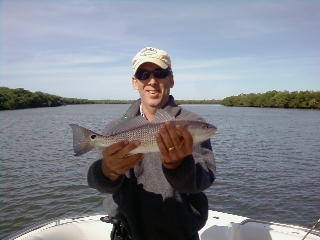 Once you have your Naples Best Address, you can find fresh seafood for dinner by heading into town to one of many of our nice restaurants, or you can head out to sea for some fishing of your own – my personal favorite pastime here in Naples. Yesterday my friend Rich and I headed into the backcountry – a chain of channels, waterways and islands which stretch from town south into the ten thousand islands for over sixty miles. I think you could fish every nook and cranny and never fish it all in your lifetime. Rich had a few favorite fishing spots in mind and we set up on an incoming tide and found some redfish willing to cooperate. Yep these are the same reds which are all the rage in Cajun cookin' with hot spices and rubs blackened to perfection. The reds Rich and I found yesterday were on the small side so we let them go and they are still swimming out there. Fishing with a good friend, enjoying the sunshine, wearing shorts in the middle of November and just lovin' life are all part of the Naples lifestyle experience.
If fishing is not your thing sightseeing in the back country is also a lot of fun. I take my friends on eco tours and see dolphin, water birds, the occasional deer, wild pig, bald eagles, osprey on their nest and all sorts of tropical scenery. Professional guides and tours are also available from boat tours to beach walks to nature preserve docents who know far more than I do about God's paradise.
Come on down here even for a long weekend and try out our back bays. Arrange for a Naples rental or buy your own getaway through NaplesBestAddresses.com and discover what Naples Real Estate can do for your lifestyle and your peace of mind.