Posted on Sunday, February 08, 2015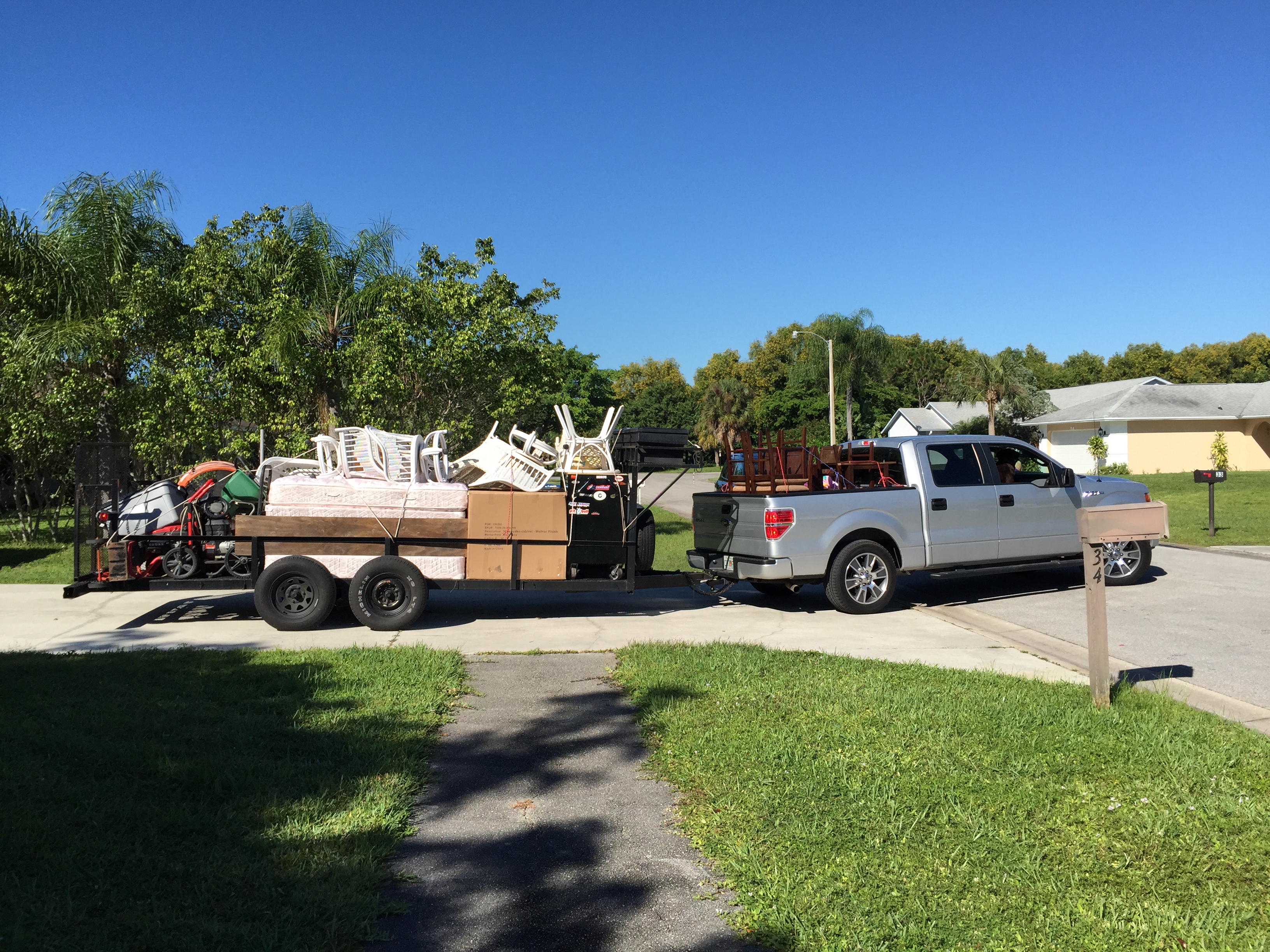 (people are on the move to Florida for all sorts of reasons)
No state income taxes, economic growth, small government, year round sunshine are among the factors causing people to pull up stakes and move here. All ages of people. The average age of Naples is actually decreasing. Up north one state actually lost population in the last census while at the same tome Florida grew to the third largest state nationally. Moving companies measuring goods in trucks calculate a net loss in the midwest and a net gain in the south. A national migration of people and businesses is underway.
We thought we would write about the bigger picture this morning and describe the significant migration to Florida.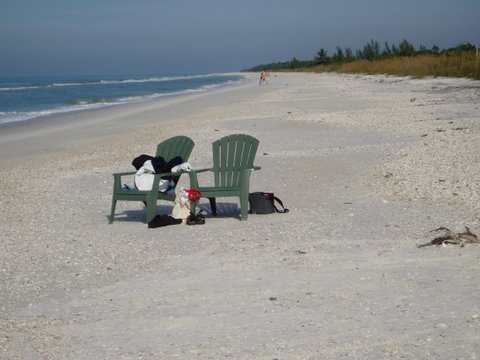 The first thing you need to know is there is a lot more going on here than a simple retirement trend. Florida is now the third most populated state behind California and Texas just recently passing other states last year. From its very modest and first population boom just after the Civil War, Florida has come a long, long way. What is going on here?
First we have the whole baby boomer thing going on and much has already been written about this topic. It is estimated 10,000+ persons retire in the United States every day and some of them move to Florida. The retirees change market forces and marketing methods and products, etc, etc. They are a force to understand. Just consider the Hall and Oates concert at Artes last month. Packed, rocking and full of teary-eyed boomers spending and whooping it up.
Ok you know about the boomers. What you may not know about is the migration of businesses along with the people to Florida and younger people moving with them. The average age of Naples is actually decreasing. Adding names like Amazon (new warehouse in Tampa) or Hertz world headquarters (Naples) to the Florida market our Governor and many others are recruiting businesses to the state. The most recent state budget surplus is likely to offer further business tax cuts the northern states cannot or will not offer.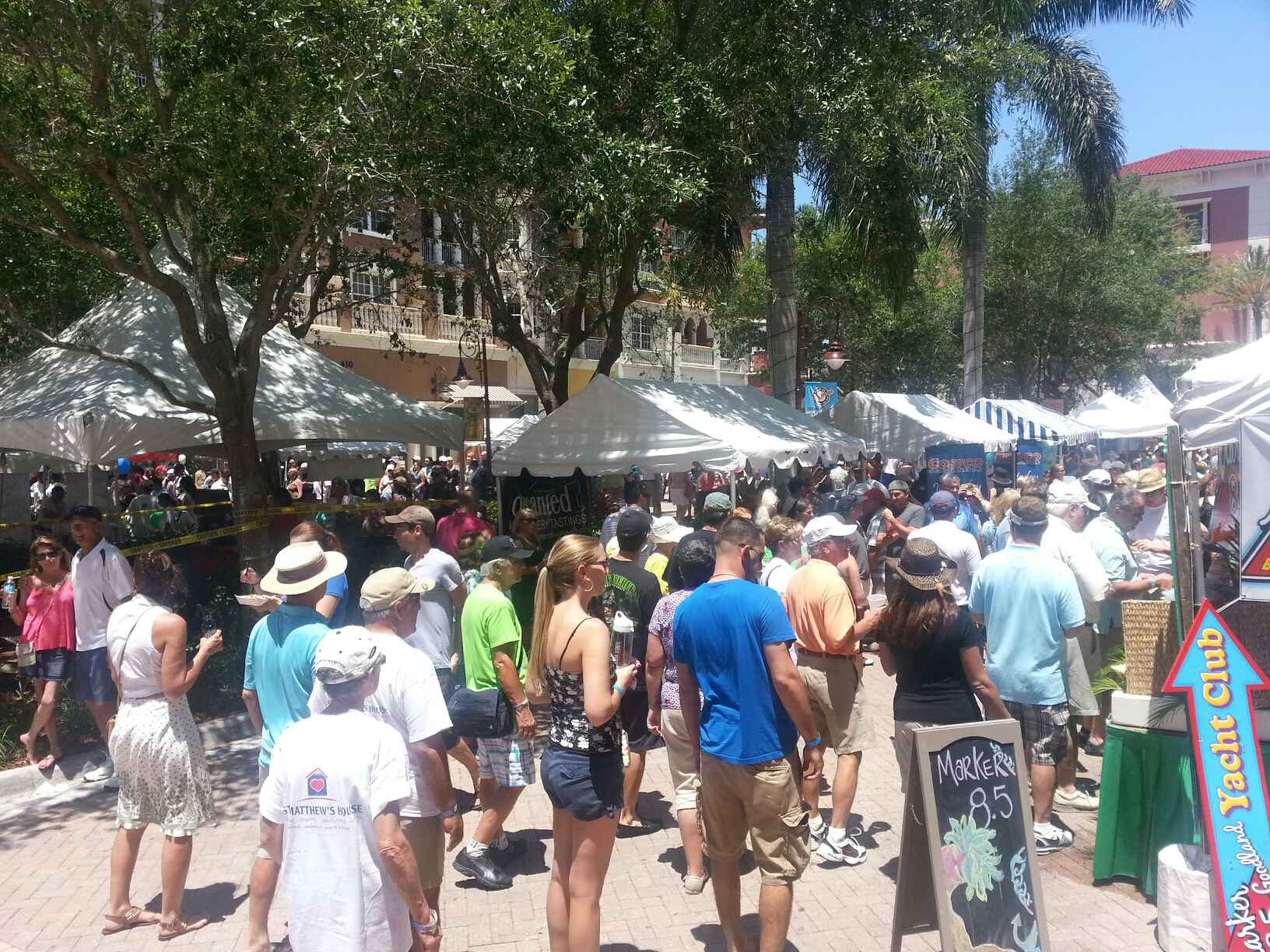 (Saturday market, fun and some real local spending)
Oh and there is the whole personal state income tax thing. No personal income taxes in Florida, no cap gains and a state running a surplus. A surplus with no state income taxes – interesting. We are sometimes maligned by the media as too old or too crazy with our gun laws but remembers this – our model is working and we see businesses and people moving here and a lot of money and spending are coming along with them.
Naples, Florida, is one of the in cities in the state seeing an increase in population, businesses and tourism. We are bursting at the seams with tight restaurant reservations, new traffic patterns, cyclists, runners, swimmers, golfers fisherman, fisherwomen, gardeners, tennis players and more playing in the Florida sunshine.
At dinner two nights ago a good part of the conversation was how to better time traffic lights so traffic would flow better. Too funny. I don't know what people are focused on in your town but if the biggest issues on your mind is traffic from booming times things are pretty darn good.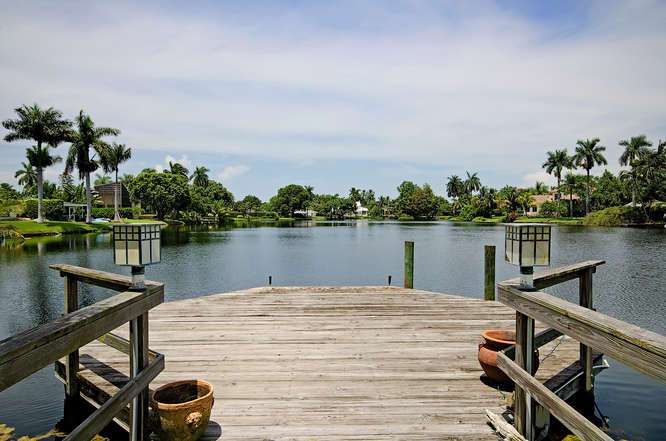 (now under contract, this lakes side beach-walkable property received an offer in one day)
What does all of this mean for real estate? Scarcity of homes primarily. The Naples inventory of available property is running far below market equilibrium and as a result prices are increasing significantly – something like 18%+ in 2014 and 15%+ in 2013. New construction sells quickly and spec home businesses are again blooming. It is estimated 50% of all new homes sold in Naples were built in the last few months. Boom times.
Keep an eye on all properties near the beach. Due to our height limitations through zoning laws Naples needs to look east and north as it grows. Near or on-water property prices are increasing again rapidly. Average single family home prices have now gone over $1,000,000 in Old Naples and the least expensive home in Pelican Bay is offered at $1,000,000+, not to mention rents are on the rise attracting more property investors.
Sellers in general are feeling a lot better. Some sellers may still be "under water" if they purchased at the last peak of the market in 2006-7 but in general sellers are re-entering this more attractive market.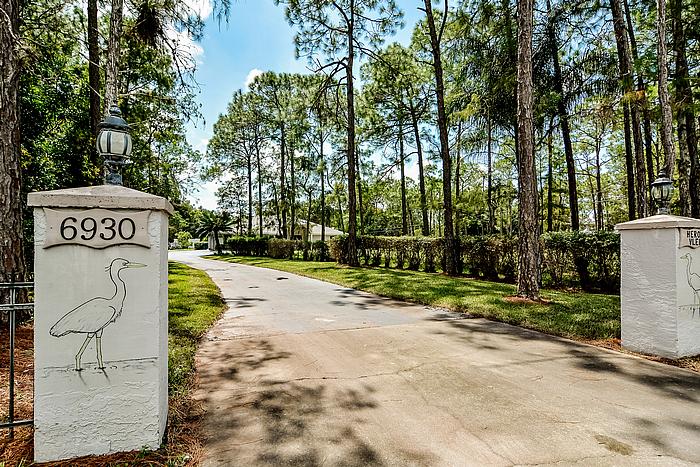 (another one of our listings now pending – 2.5 acres within 15 minutes to the beach)
Can you still make mistakes as a seller in a seller's market? Absolutely. Over priced properties in poor condition may still sit on the shelf.
Can you still find places as a buyer? Of course but you better be ready with good search tools, pre-approved financing or cash and a good real estate team like Naples Best Addresses to keep you informed and help you search.
Get with our team at NaplesBestAddresses.com and we will help you sort it out. Even though so many people have moved here in recent years there is still plenty of room left for you!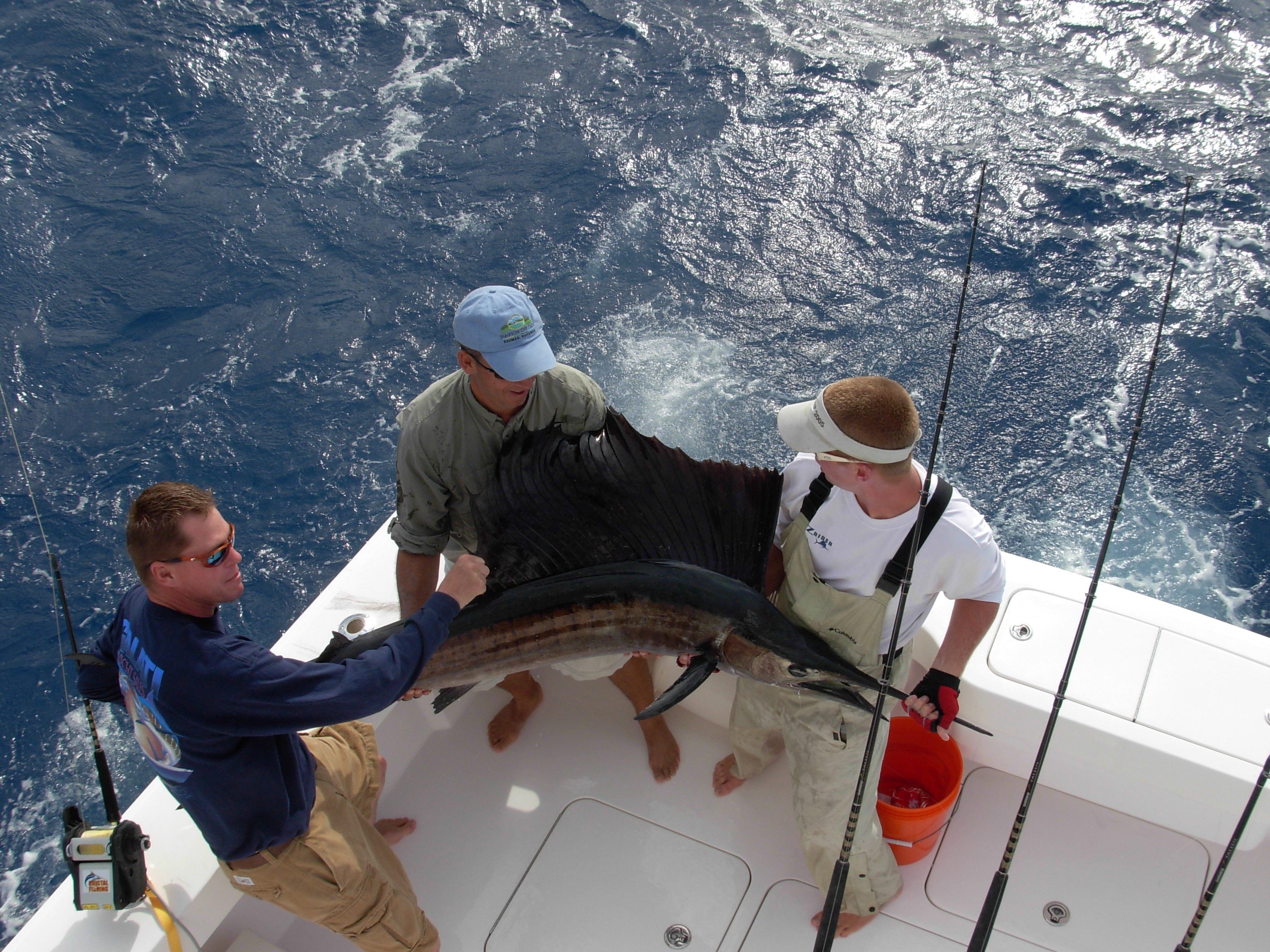 (sailfish caught and released off the coast of Florida)
If you would like to know more about living in Naples, Florida please talk with our team. We have toured and owned property in Naples for thirty-eight years and know we can help you out. Give us a call at 239.595.3921.
Also remember the new edition of our eBook "Understanding Naples Real Estate" is now available making predictions for the 2015 Naples real estate market as well as offering up advice to sellers and buyers. To get your free copy go to https://www.naplesbestaddresses.com/offer/ .
We hope to meet and talk with you soon,
Mark Goebel PA, Nan Goebel PA and David Goebel, PA
Co-Founders of the Naples Best Addresses team
Coldwell Banker
Mark Goebel, PA and Nan Goebel, PA
REALTOR Coldwell Banker 5th Avenue South
Mobile: 239.595.3921 239.595.3920
NaplesBestAddresses.com
Facebook: NaplesBestAddresses
Youtube http://www.youtube.com/user/naplesbestaddresses?feature=results_main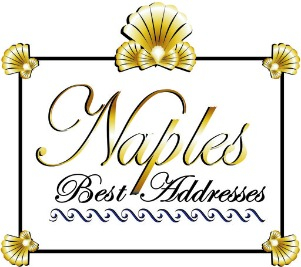 ————————————————————————
No legal, investment, or tax advice is being given in this Blog. Consult with legal, financial and tax professionals before acting on any real estate transaction. Actual real estate price and sales results are subject to market forces and are not completely predictable. The writings of this Blog are intended for the sole use of our clients.
We are pleased to announce a portion of our real estate earnings go to support the The Naples Botanical Garden, Habitat for Humanity Collier County, The Race For The Cure Citrus Ride, The Seacrest Country Day School and The Naples Winter Wine Festival.
Some of the data relating to Naples homes for sale and Naples real estate for sale on the NaplesBestAddresses.com website comes in part from the Broker reciprocity program of M.L.S. of Naples, Inc. The properties displayed here may not be all the properties available through the MLS reciprocity Program. This information is deemed reliable but is not guaranteed. Buyers and sellers are responsible for verifying all information about their purchase prior to closing.
Mark Goebel, PA is a REALTOR with Coldwell Banker on 5th avenue in Naples, Florida with 35+ years of visiting and living in Naples. After 25 years at Accenture, Mark retired as a managing director and spends his time helping non profits and building a Naples real estate team with his wife Nan. Talk to Mark and Nan about life in Naples and why they chose this place to live full-time over all others and enjoy Naples real estate.
Contact us to learn more about Naples real estate trends, the florida rental market, Naples design ideas like coastal contemporary and transitional designs or just get a feel for the place like Naples Florida population trends.