Posted on Thursday, May 18, 2017
After more than a decade in North Naples, Amanda and Steve Jaron are moving their businesses to the Bayshore Arts District.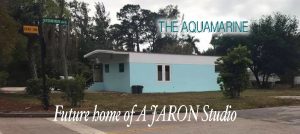 While driving down Bayshore drive in East Naples, you may notice a building with a fresh coat of aquamarine colored paint. This building, aptly nicknamed "The Aquamarine", is transforming into A JARON Studio flagship gallery/studio. As soon as June 1st you will be able to walk in and see the shimmer and shine of Amanda's signature glitter on the floor welcoming you, along with beautiful artwork planned for the exterior of the building.
"We have lots of work to do on the building … I have found my 'forever home' so… it will be a work in progress," says Amanda. For Amanda, designing jewelry has been a lifelong love. She enjoys designing custom pieces for clients and also has collections on display all ranging from sterling silver pieces to those made with semi-precious stones.
The move to the Bayshore Arts District is a family affair with Steve Jaron, a general contractor, moving his businesses Renovate & Restore, LLC and Echelon Construction Co., LLC next to The Aquamarine in a bright red building. "We love the balance of living on the water, mixed with the urban feel of walking to work and play, Bayshore Drive is authentic, the businesses are creative, family owned and thriving! I cannot wait to welcome my friends and clients to the neighborhood!" Steve works in both residential and commercial construction and projects include remodeling, renovations and new home construction.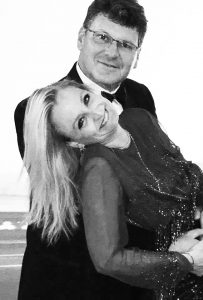 After moving their family to the area a couple of years ago, Amanda and Steve decided it was time to move their businesses here as well. "We believe in the Bayshore Arts District, we have moved our family here, living and working in the same neighborhood is a dream come true. I commuted into NYC 1.5hours each way for 12 years!" says Amanda. How exciting to add these businesses to the Bayshore Arts District!
Amanda's Website: www.ajaron.com
Steve's Website: www.renovateandrestore.com
Like this story? Join the thousands of others who read our free monthly newsletter. We write about the Naples real estate market and the wonderful Naples lifestyle.
Sign up here
.