Posted on Monday, April 30, 2018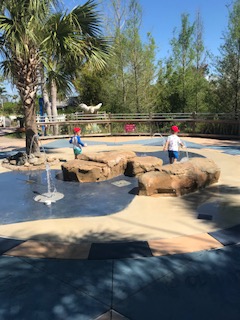 The Bayshore Arts District is a lively community just south on The Tamiami Trail of downtown 5th Ave Naples, Florida. Over the past few years, the area has been in redevelopment and more and more businesses have moved to the area. We thought we'd spend a day getting to know some of these businesses and hot spots a little better.
Breakfast – Three60 Market
The Bayshore Arts District boasts some great restaurants so, there are lots of choices when it comes to eating but Three60 Market is the perfect place to stop for the first meal of the day. With generous portions and a fantastic view, you could spend hours here. Don't forget about a glass of wine. They have a terrific selection from around the world.
Today we decided on delicious omelets and glasses of crisp rosé overlooking the water. We were entertained by boats coming and going and also the construction happening just across the canal. This is where Celebration Food Park is going to be located. Construction began recently and is scheduled to be finished in September, just in time for next Season. The food trucks will be serving the best food around, we are looking forward to trying it all! The atmosphere at Three60 is vibrant and fun, its worth checking out if you're in the area. Read more about Three60 here, here, and here.
The Naples Botanical Garden
Each time I come to the Botanical Gardens it seems that it is better than the last. With kids in tow this time, we decided to spend most of our morning in the children's garden. Here, we found winding paths full of wonderful plants, a waterfall, treehouse, bridge to cross, sand, a small cottage, a splash pad and more! We enjoyed all of this while being surrounded by butterflies.
Lunch – Taqueria San Julian "Home of the Best Tacos"
This small yellow building on Bayshore really does have the best tacos that really hit the spot. Don't by shy when ordering, they are good and 2 or 3 make the perfect lunch. Today, we ordered 5 tacos for two of us, including the beef, pork, and chicken. The friendly staff got started right away and our order was finished in just a few minutes. Taqueria San Julian was recently mentioned in this article.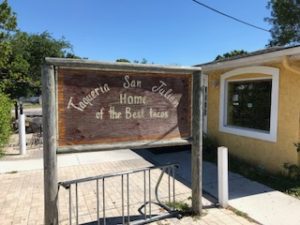 Pickleball Championships
How nice that Bayshore has become the world's capital for the fun game that seems to be taking over Naples! We headed over here after our lunch to check out this fast-paced game. We were able to see some mixed doubles on the main court. The tournament is coming to an end but we look forward to more Pickleball next year!
Dinner – The Real Macaw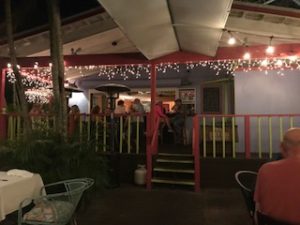 This colorful restaurant has been a mainstay of the Bayshore Arts District. The good food, live music and Caribbean feel make it a fun place to be! We enjoyed the food and some tropical inspired drinks during our visit.
The Bayshore Arts District is full of fun places to eat and play! We look forward to even more businesses taking hold here to be enjoyed by everyone in Naples.
Like this story? Join our newsletter here.